---
W D 2 X S H
THE ARRL 600 METER EXPERIMENTAL GROUP
This web site was updated on 05 October, 2016 at 2100 UTC
---
Quick Links
Enter a Reception Report for 630 meter stations

Project Status Report Files

View or Download Reception Report Files
The "Grabbers"

Station Location Map

Station Operating Status
Stations by Call

Stations by Frequency

USA 600 Meter Stations
Other US Experimental Stations

Non-USA Experimental Stations
Mailing Lists

News Archive

File Downloads

600 Meter Band Viewer

600 Meter Project Rules, Frequencies & Information

---
Current Band Plans and Frequency Assignments for WD2XSH Stations
Band Plan and Station Frequency Assignments for the "High Band" of 495 - 515 KHz - 17 DEC 2010
Station Frequency Authorizations for the entire band of 465 - 515 KHz - 1 JAN 2011
Band Plan and Station Frequency Assignments for the "Low Band" of 465 - 478 KHz - 15 OCT 2011
---
---
Latest News
---
- - - - - - - - -

---

630-METER SPECIAL EVENT

November 12, 2016
On November 3, 1906, the Berlin treaty made 500 kHz the International Distress Frequency. 630-meter operators will commemorate the Berlin Treaty with a special event on Saturday night, November 12.
Three different groups will participate:
U.S. Part-5 Experimental Operators including WD2XSH stations and others will operate in the 472 - 479 kHz band. They will use CW transmissions for QSOs and beacons with special messages. There may also be some operation on 500 kHz itself.
Canadian Amateurs will also engage in CQ QSOs in the 472 - 479 kHz band. They will also participate in cross-band QSOs with amateurs operating on 80 and 40 meters.
The Maritime Radio Historical Society will activate its KSM/KPH transmitter at Bolinas, CA for a mini "Night of Nights" with special messages and bulletins.
Detailed information will be posted on a number of sites as the event approaches, including:
---
- - - - -
AMATEURS WIN 600 METER BAND WORLDWIDE!


Amateur Radio Obtains a Secondary Medium Frequency Allocation at WRC-12
.
02/14/2012 It's official -- delegates attending the 2012 World Radiocommunication Conference (WRC-12) have approved a new 7-kilohertz-wide secondary allocation between 472-479 kHz for the Amateur Radio Service. Agenda Item 1.23 had both its first and second readings in Plenary Session on Tuesday, February 14; to become part of the ITU Radio Regulations, each Agenda Item must be read twice in Plenary Session. While the Final Acts will be signed on Friday, February 17 at the close of the Conference, the new allocation will not take effect until it is entered into the Radio Regulations. No date has been set for this, but it is unlikely to be earlier than January 1, 2013. In any case, no amateur can use the band until his or her national regulations are revised to implement the allocation.

Full story available at http://www.arrl.org/news/amateur-radio-gets-secondary-mf-allocation-at-wrc-12
---
The 500 KC Amateur Radio Experimental Group Reception Report Maps for 2006-2011

These maps have been compiled by Ralph Wallio, W0RPK.
Thanks Ralph, for the tremendous effort!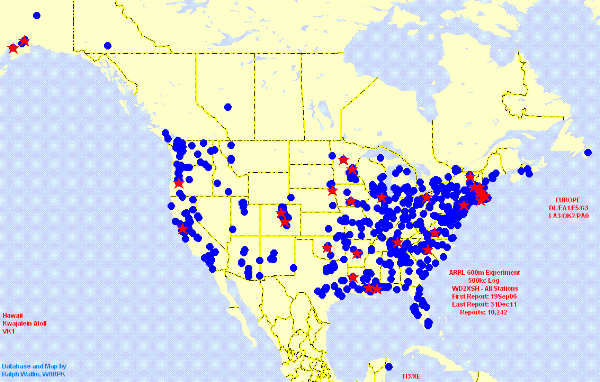 Click on the map
---
Check out the 600 Meter Band Viewer. This allows you to watch signals on the 600 Meter Band between 495 and 510 KHz in 5 minute segments in near real time
(Temporarily offline, sry.)
- - - - -
FCC GRANTS MODIFIED LICENSE FOR THE ARRL WD2XSH 600 METER EXPERIMENT
On July 28, 2009, the FCC granted the ARRL a modified license for WD2XSH. This modified license allows the experiment to operate with 45 stations across the continental USA, Alaska, and Hawaii.


Click HERE for a PDF copy of the grant.
- - - - -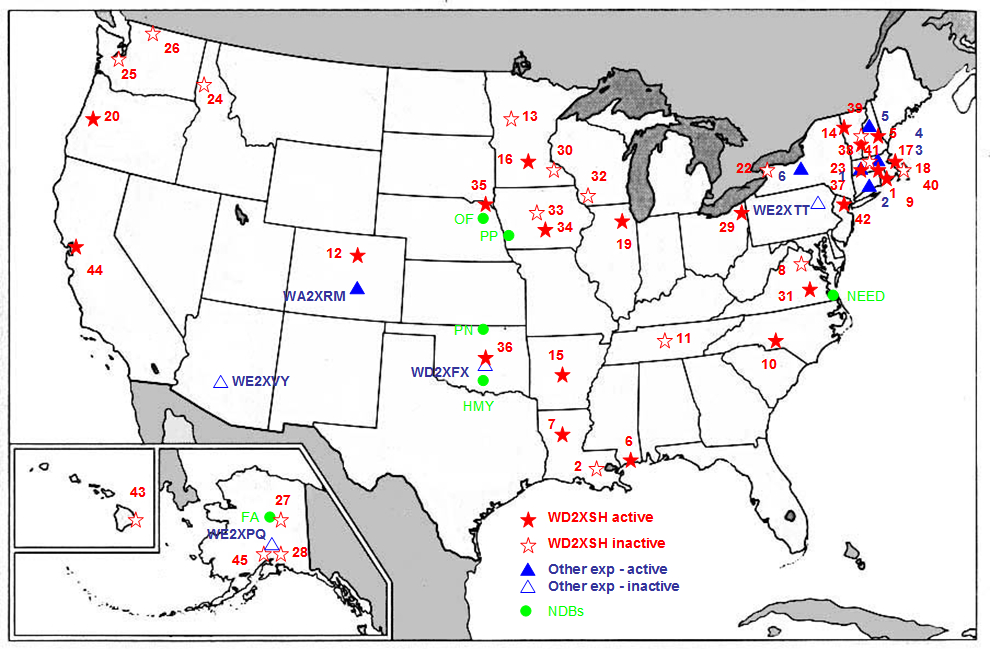 Location map of the authorized stations for the 600 Meter Experiment. 07 July 2011
( Click on the map for a larger image. )
- - - - -
The following stations are currently authorized to operate on the air under the terms of the FCC grant and the conditions specified by Fritz Raab, W1FR, who is the ARRL Coordinator for the project.
Note that most stations will be operating in the range of 495 - 499 and 501 - 510 KHz. See the conditions for more information.
W1NZR - WD2XSH/1
W5TVW -WD2XSH/2
KW1I -WD2XSH/5
W5THT - WD2XSH/6
W5JGV -WD2XSH/7
N4ICK -WD2XSH/8
W2ILA -WD2XSH/9
W4DEX -WD2XSH/10
WS4S -WD2XSH/11
AI8Z -WD2XSH/12
K0JO - WD2XSH/13
W1FR -WD2XSH/14
W5OR -WD2XSH/15
WEOH -WD2XSH/16
AA1A -WD2XSH/17
N1EA -WD2XSH/18
K9EUI -WD2XSH/19
N6LF -WD2XSH/20
WB2FCN - WD2XSH/22
K2ORS -WD2XSH/23
W7EKB -WD2XSH/24
W7OUI -WD2XSH/25
W7WKR - WD2XSH/26
KL7AJ -WD2XSH/27
KL7Q -WD2XSH/28
KN8AZN - WD2XSH/29
W0AD -WD2XSH/30
WA1ZMS - WD2XSH/31
K9WRU -WD2XSH/32
W1FR/0 -WD2XSH/33
W0RPK -WD2XSH/34
K0HW -WD2XSH/35
W5GHZ -WD2XSH/36
W1XP -WD2XSH/37
KN1H -WD2XSH/38
KM1H -WD2XSH/39
WA1OMI -WD2XSH/40
W1HK -WD2XSH/41
K2LRE -WD2XSH/42
KH6B -WD2XSH/43
AC6QV - WD2XSH/44
KL7UW - WD2XSH/45
- - - - -
Please check the NEWS ARCHIVE for all previous happenings.
---
RECEPTION REPORTS
You do not have to be a member of this group to send us a reception report.
Reception reports are welcome for ANY 600-meter station - not just WD2XSH stations. Multiple reports on the same station on different dates and times are encouraged as they allow us to see that communication is repeatable
The entire Amateur Radio community stands to benefit from your assistance!
- - - - - - - - - - - - - - - - - - - - - - - - - - - - - -
Ever wonder what happens to your Reception Reports?
Take a look at these excellent RECEPTION REPORT maps for the WD2XSH stations as compiled by Ralph Wallio, W0RPK.
---
If you have anything to contribute - news, construction articles, data files, interesting links or whatever - please email w5jgv at w5jgv dot com. Thanks from the 500 KC Experimental Group!
---
Operational Specifications
Frequency of Operation - 461 - 478 and 495 to 510 KHz
Maximum ERP - 20 Watts
Emission Modes - CW - PSK / FSK / MSK-31
Number of Stations - 45
The permitted Modulation Modes are:
CW / QRSS - 150HA1A
PSK-31 - 62H0J2B
FSK-31 - 62H0F1B
MSK-31 - 62H0G1D
---
Additional information about Amateur Radio and Part 5 Experimental Operation may be found on my other web site at W5JGV.COM
All Pages, photographs, text or other data in any form on this Web Site are Copyright © 2005 - 2016 by Ralph M. Hartwell II or their respective authors.